For Victims Of Abuse
More will be added here as time permits.
If you are a victim, you ARE NOT guilty; it WAS NOT your fault; and you DO NOT have to let it continue.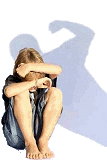 TELL SOMEONE NOW!!! If that person doesn't help or believe you, tell someone else.
Select the page that is of interest to you with these links, or the ones at the top right corner of the page.

If what you are looking for is not here yet, or if you need someone to talk to, feel free to contact me either by email through this form, or privately and anonymously through this form.
A list of worldwide child help lines can be found at:
http://www.childhelplineinternational.org/en/network/members